​Apple vs Trump: Why You Should Hold The Stock Before The Elections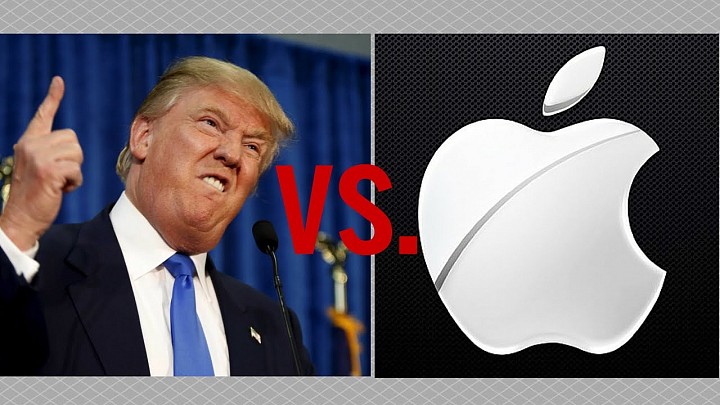 During the first presidential debate, held not long ago, Republican candidate Donald Trump criticized the Ford Motor Company (F). The main reason is that Ford invests in Mexico and is going to make cars on the southern border. However, Ford is not the only American company under the candidate's pressure.
Apple (AAPL), one of the biggest companies in the world, is regularly mentioned on the front pages along with Trump. Trump and the company have already exchanged blows several times. Trump struck the first blow in January, criticizing Apple for its decision to produce abroad. In February, he agitated for a boycott of Apple. In March, Trump chose the subject of H-1B visas — legal but increasingly unpopular instrument that technological (and other) companies use to employ workers from outside the United States. Apple responded in June by refusing to support the Republican National Convention, Moreover, the company called Trump's views as the main reason for this decision.
The conflict began in January with a rough statement by Trump about trade and production. The presidential candidate said that the United States was at a disadvantage compared with China, which, he said, engaged in "financial blackmail" by using currency manipulation. In contrast with the Western economies which rely on free pricing, China sets the exchange rate of its currency through the Central Bank. At the moment of writing, the Chinese yuan was at its five-year lows. Trump believes that the devaluation has weakened the U.S. manufacturing sector, causing losses of tens of millions of American jobs. In fact, Apple produces its iPhone in China at the facilities of Foxconn Technology and Pegatron Corp. This is obviously a sore spot of Trump and a reason for clashes between him and Apple.
Speaking on January 18 at the Liberty University in Lynchburg, Virginia, Trump mentioned Apple aggressively, stating: "We're going to get Apple to build their damn computers and things in this country instead of in other countries."
Just look at wages in manufacturing, to understand that this can be an enormous problem for Apple. The mean annual salary of a factory worker in China is 55 325 yuan ($8 281) per year. In comparison with a 40-hour workweek, an average employee in manufacturing gets $42,000 per annum. It is five times more than Apple now pays its Chinese workers outside of the USA.
Hence, Apple's potential costs to move production in the U.S. will be too high and probably unacceptable. If Trump imposes a ban on offshore production or establishes additional charges, there will also be a lot of pressure on Apple.
Just a month after, Trump made statements about the proceedings, and the conflict took a new turn. In February, Apple and its CEO Tim Cook refused to comply with the court's decision and unlock the iPhone belonging to one of the perpetrators of the attack in San Bernardino. Tim Cook said it would jeopardize the security of all iPhone users. Many Americans, including Trump, considered this refusal unpatriotic.
During a South Carolina rally, Trump called for a boycott of Apple products. Later in an interview with Bloomberg, he said: "I would come down so hard on him [Tim Cook] - you have no idea - his head would be spinning all of the way back to Silicon Valley."
In March, Trump exacerbated the conflict with Apple (and with the majority of corporate America) when he voiced his views on the immigration reform and, in particular, the H-1B visa. In fiscal 2014, according to the statistics, more than 313 thousand foreign workers used H-1B visas, and 64% of them did a computer-related work.
Although tech companies urge the government to expand the H-1B program, ordinary citizens increasingly oppose the involvement of foreign workers, who allegedly replaced American workers by demanding smaller wages. Trump actively used this idea, stating that he would end the program if elected. "I know the H-1B very well. … We shouldn't have it; it's very, very bad for workers."
Nevertheless, he later softened his stance, saying that the country needs to continue to attract skilled workers, but still needs to "pause" in issuing visas H-1B in order to increase the salaries of US workers. By having submitted more than 4020 applications for H-1B visa during 2013-2015, Apple holds the 20th place among the corporate sponsors of the issuance of visas like Intel (INTC), Amazon (AMZN), and IBM (IBM).
I think that the existence of the conflict between Donald Trump and Apple is obvious. If you follow the major holders' transactions history, there is one more important detail. According to Fortune, the biggest assets of Trump in the stock market are shares of... Apple. The position value is about $1.25 million.

At the first glance, this can calm the nervous Apple's investors. Why will Trump harm himself by acting the way he wants to? However, according to Fortune's report in July 2015, Trump owned a stake of $6.5 million in Apple. Although Apple shares have fallen in price by about 10% since then, it still means that Trump has been actively selling his shares during the year.
Main Takeaways

I think that taking long or short position in Apple at the moment is very risky. If Trump wins the battle, he can use his increased power to harm Apple. Hence, opening new positions in the stock is not advisable.