Cal-Maine Falls On Quarterly Earnings - Thank You, Mr. Market!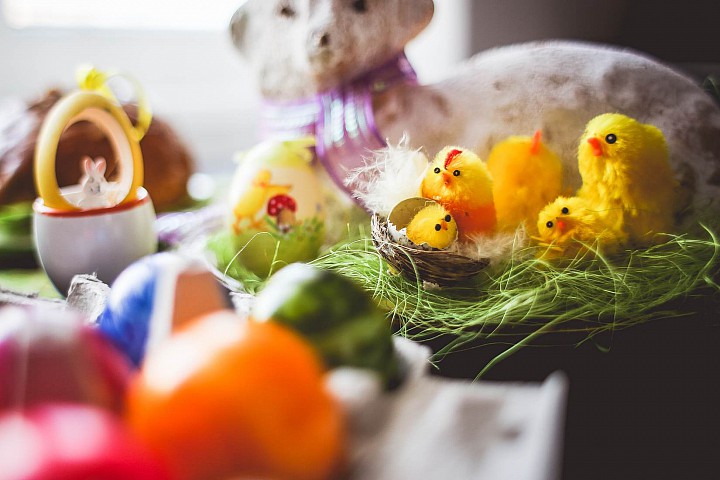 According to Google Finance, shares of Cal-Maine Foods Inc. fell down by over 7% on the after-hours trading session - to $46.00. Over the past year, the company's stock has performed very well, beating NASDAQ by about 8%: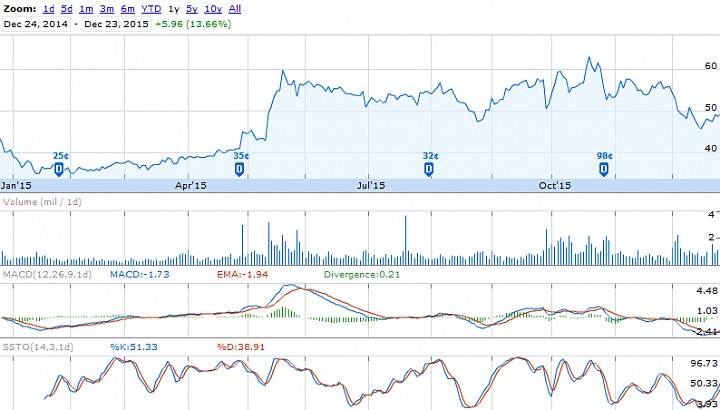 (Source: Google Finance)
What caused the sudden decline? Apparently, the stock missed quarterly analysts' estimates as evident in the press release posted by the company after-hours. A friend of mine, Max Green, is continually irritated by such short-term thinking. He wrote about it in his recent article on Cal-Maine.
In October, I valued Cal-Maine at $63 - $68 per share. Back then, the stock was hovering just over $60 per share, so I obtained the following results in my DCF model: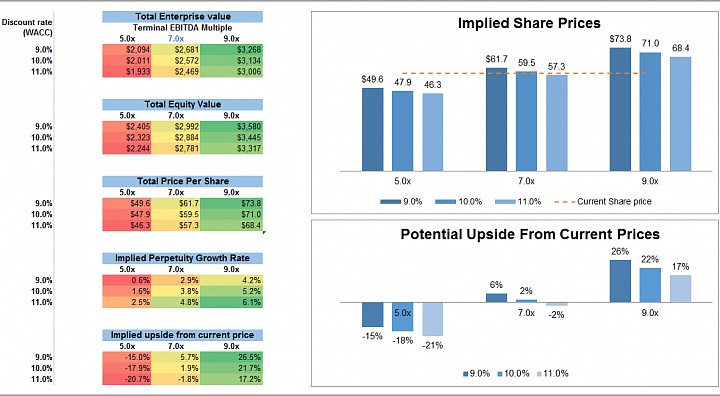 (Source: Author's Model)
Has anything changed since then? Should my fundamental assumption be different now? Let us go over the quarterly report together. Also keep the following points in mind:
- Cal-Maine Foods (NASDAQ:CALM): FQ2 EPS of $2.26 misses by $0.14.
- Revenue of $546M (+44.2% Y/Y) misses by $6.31M.
Net sales for the second quarter of fiscal 2016 were $546.0 million, a 44.2 percent increase compared with net sales of $378.6 million for the second quarter of fiscal 2015. The Company reported net income of $109.2 million, or $2.27 per basic share and $2.26 per diluted share, for the second quarter of fiscal 2016 compared with $36.6 million, or $0.76 per basic and diluted share, for the second quarter of fiscal 2015.
For the first six months of fiscal 2016, net sales were $1,155.9 million compared with net sales of $735.6 million for the prior-year period. The Company reported net income of $252.3 million, or $5.24 per basic share and $5.22 per diluted share, for the first half of fiscal 2016 compared with net income of $64.3 million, or $1.34 per basic share and $1.33 per diluted share, for the year-earlier period.
The net income per share numbers for the second quarter and year to date periods for fiscal 2016 and fiscal 2015 reflect the two-for-one stock split for shares of the Company's common stock and Class A common stock, effective October 31, 2014.
OKAY!
So, Cal-Maine increased quarterly sales by 44% on a year-over-year basis and boosted six-month sales by 57%! I am not even talking about the almost quadrupling net income growth. And we are talking about a company that is valued at about 6x LTM EBITDA: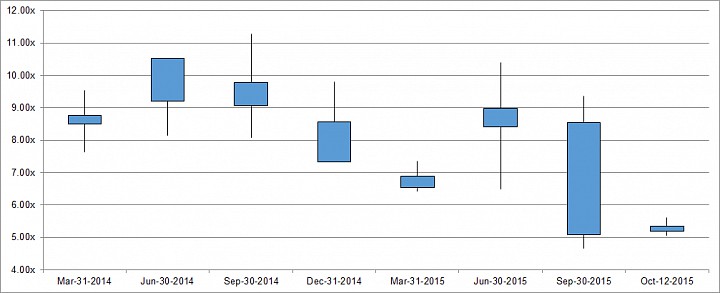 (Source: Capital IQ)
A clearly growth company is valued like a boring deep value stock! Just compare its valuation to the peers: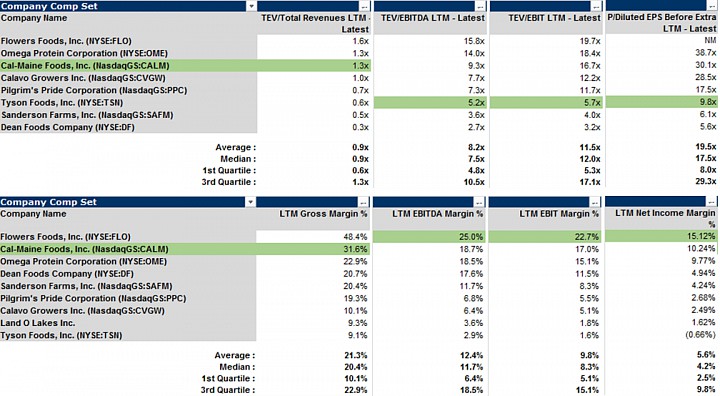 (Source: Capital IQ)
Cal-Maine has by far the best margin and growth in the pack, yet it has average or even below-average valuation in some cases.
However, let us go on with the report.
Dolph Baker, Cal-Maine's CEO stated, among other things:
Our industry continues to deal with the significant reduction in the national laying hen flock that occurred this past spring related to the Avian Influenza (AI) outbreaks in the upper Midwestern United States. While the supply is gradually starting to move back up, the current national laying hen flock reported by the USDA (USDC) yesterday is still approximately nine percent lower than it was a year ago. Egg prices have moved lower than expected in spite of the reduced supply, and we expect prices will remain volatile until the industry has more clarity on future supply levels.
Clearly the company is in the best situation possible: it is the national leader in the eggs market, and the egg supply will be under pressure at least in the short-term, enabling the company to capitalize on its almost monopolistic market share.
For the second quarter of fiscal 2016, Cal-Maine Foods will pay a cash dividend of approximately $0.751 per share to holders of its common and Class A common stock. Pursuant to Cal-Maine Foods variable dividend policy, in each quarter for which the Company reports net income, the Company pays a cash dividend to shareholders in an amount equal to one-third of such quarterly income. No dividends are paid in a quarter for which the Company does not report net income. The amount paid could vary slightly based on the amount of outstanding shares on the record date. The dividend is payable February 11, 2016, to shareholders of record on January 27, 2016.
So it looks like the dividend is meant to be volatile. It was 98 cents last quarter. Can the market be discounting the stock because of its dividend volatility? Possibly, but unwise, in my opinion. It is the business's fundamentals that matter, not dividends, especially, when we are talking about growth companies that reinvest its cash into net working capital and PP&E.
Going into the company's financials, we see the following picture (I will only go over the balance sheet because the income statement was almost completely described above):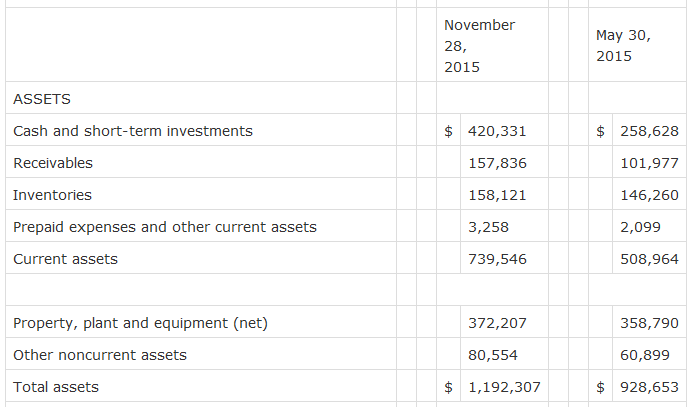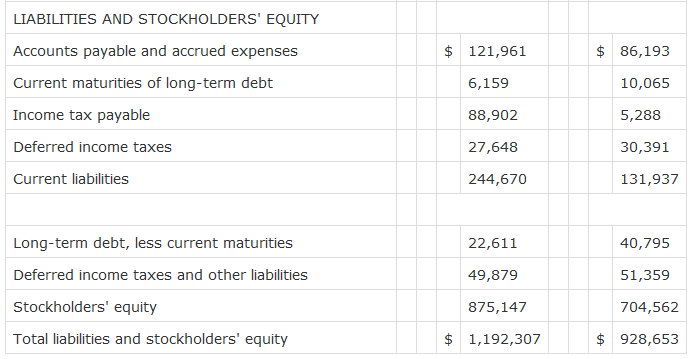 (Source: Press Release)
Unfortunately, the company did not post its cash flow statement. I really love analyzing this statement above all others.
Assets have increased by $264M, while current liabilities went up by slightly more than $110M and long-term debt has been axed by almost 50%. This means that the increase in assets can mainly be explained by and expansion of the company's equity, which has grown by over $170M in the past six months. Keep in mind that this growth is net of the dividends paid over the same time period (about $57M).
Cal-Maine's book value per share is above $20 per share. This means that at a $46-per-share mark, the company is only trading at a P/B ratio of only 2.3x! It also means that the current P/E ratio is less that 7.0x (based on LTM earnings of $349M)!
I refuse to understand the markets. I was bullish on the stock at $60 per share and I am bullish on it at $46 per share.