Costamare Inc. - Your Best Risk-Adjusted Dividend Bet In 2016
When investors see dividend yields in high single or even double digits they typically think the market is preparing itself for a dividend cut down the read. This is very true for many energy investors, who see major integrateds like BP and Royal Dutch Shell being traded at figures never demonstrated before. Even though their cash flow situation and the ability to fund dividend payments (and grow them) is questionable, their case is not unique to the market. There are companies in the market that offer high yields, yet they have nothing to do with energy markets. On contrary, they benefit from low energy prices. This time, it is Costamare Inc., a Greece-based international owner of containerships (not tankers!). The stock is currently trading at a dividend yield of over 12% as it tanked by over 40% over the past 52 weeks (growing dividends by 4% in the meantime):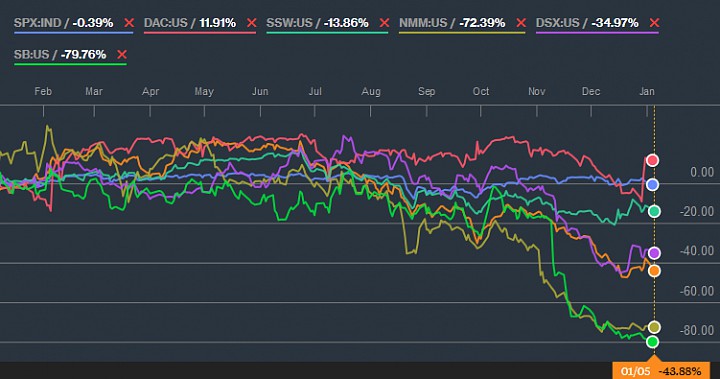 (Source: Bloomberg)
Note: the stock's price returns are compared to the S&P 500 Index's performance and returns of Danaos Corporation, Seaspan Corporation, Navios Maritime Partners, Diana Shipping, and Safe Bulkers Inc. I chose these companies because they either operate in the same market and/or have similar market capitalizations.
History shows that the recent decline has been short-lived: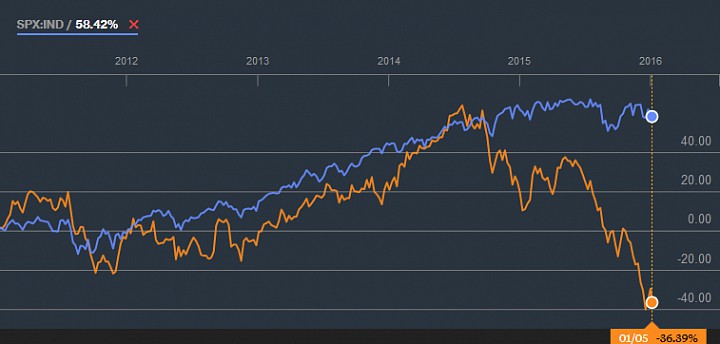 (Source: Bloomberg)
Costamare's shares tracked the broader index for most of the time period during the past five years before they started their descent in mid-2014, losing over a third of their value. The decline was caused by industry swings (e.g. charter rates going down) and unfavorable macroeconomic data. However, the company grew revenues over the time period: it posted a 17% increase in fiscal 2014 and 1% in the period of September 2014 to September 2015. In 2014, the company's operating income grew by 26%, while in the last twelve months as of September 30, 2015, the increase was only about 1%. On the other hand, in the same period, Costamare has generated sufficient cash flows to fund dividends (both common and preferred):

(Source: Capital IQ. Calculations by author)
Note: I had to project figures for 2015 as I do not have access to quarterly cash flow statements. Assuming dividends for FY 2015 at a level of ~$100M, we see that Costamare generates sufficient cash flows to fund them without taking on more debt. There is also room to grow (remember that the current cash balance is at $130M, as of Q3'15). Keep in mind that Costamare has made increasing dividend payments continuously since its IPO in 2010.
And here is what Gregory Zikos, the company's CFO said about the dividends in the latest earnings call:
In the past Costamare was trading at 4% to 5% yield, now we're trading - I think in the range - in the region of 7.5% to 8% or north of that. What I can say is that today the sort of 8% yield that Costamare is proposing is quite attractive. It's quite attractive because it is coming from long term cash flows with very secure and stronger counter parties. And as we mentioned, I don't think we've ever missed analyst estimates, not over the last couple of years since going public I would say, and we never had to restructure out debt, cut the dividends whatever. So, I mean today this 8% dividend yield, it is quite attractive and we have also a track record as a public company.
The point is: there does not seem to be any short-term factors that may cause the company to cut its dividends at least over the next year.
DCF Valuation
Costamare's DCF model has three scenarios built-in: a Base Scenario (a 1% CAGR in revenues in the next five years, a constant 65.8% EBITDA margin, and a 11.7% discount rate), a Bull Case (7.7% CAGR in the top line, an increasing EBITDA margin to 68.2% in 2020, and an 11.7% discount rate), and a Stress Case (0% CAGR in revenues, a declining EBITDA margin to 63.7%, and an 11.7% discount rate). The model's Base Scenario's output is provided below (see the rest in the model):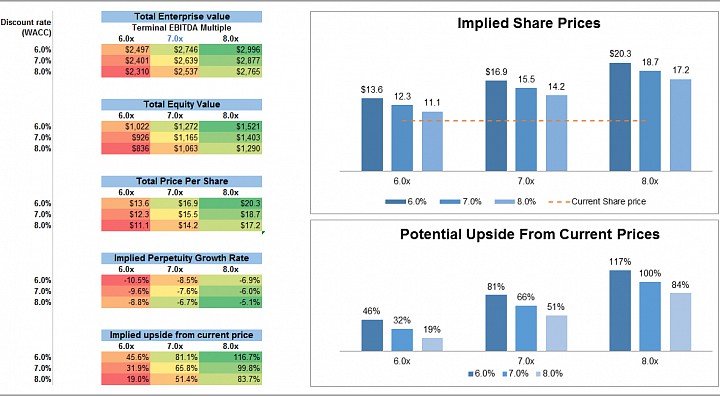 (Source: Calculations by author)
Note: the percentages indicate a downside move in the share price from the Tuesday's close of $9.45 required for the stock to reach the fair value range.
I used a 7.0x EBITDA multiple in the model above. This may seem high in absolute terms, but before we jump to conclusions, let us see how the model's multiple is comparable to peer and historical data: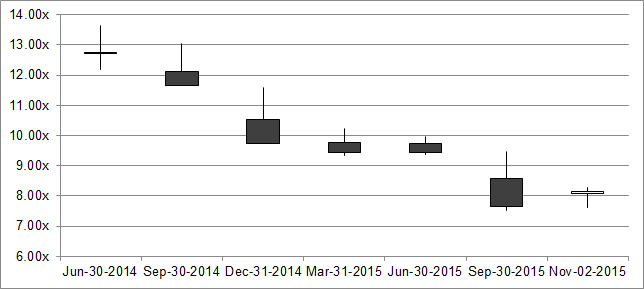 (Source: Capital IQ)
Nevertheless, let us take a look at how Costamare compares to its peers in terms of profitability and key margins:

(Source: Capital IQ. Compiled by author)
The company's profitability is in the top of the list and the recent data show that its growth rates are above-average on most lines (~2.8% LTM revenue growth, ~2.5% growth in EBIT and ~28% net income margin over the last twelve months). Nevertheless, the company is near the bottom of the list in terms of valuation multiples:

(Source: Capital IQ. Compiled by author)
The historical and the comparable companies' data show that the multiple chosen in the valuation model are extremely conservative. Hence, readers should be able to apply higher multiples and arrive at a high fair value per share. My calculations lead me towards the following target price range (I used an 11.7% expected return - WACC):

(Calculations by author)
According to the calculations above, it seems that the stock is undervalued and presents an opportunity for an abnormal risk-adjusted return.
Opinion
I issue a BUY recommendation on the shares of Costamare Inc. with a target price range of $16-$19 per share, which represents a 70%-105% upside opportunity in the next 12-24 months. The stock undoubtedly has an enormous margin of safety (offers and upside even in the Stress Case) and pays for investors' alternative costs with a double-digit dividend yield. The big players also hold a positive view on Costamare's shares with a target price of $16.5. The problem here is that the market sees a lot of uncertainty in the stock and the industry as a whole. My suggestion is that investors should only buy the stock if they have long horizons.