Care About A Cup Of Tea?
David's Tea (DTEA) is a Canadian company traded on the US exchange. According to its website, "DAVIDsTEA is a fast-growing branded beverage company, offering a differentiated selection of proprietary loose-leaf teas, pre-packaged teas, tea sachets and tea-related gifts and accessories through its DAVIDsTEA stores and its website, davidstea.com". I will be in Canada early next year for some time, so I will make sure to check the company's product from the first hands.
The company held an IPO early in the summer - in June - and its shares have shown a terrible price dynamics since then, losing more than half of its market value: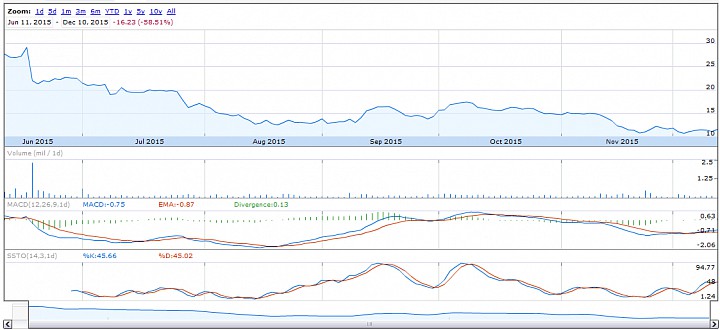 (Source: Google Finance)
Let us hope its fundamentals are better than the market performance. The company reported its latest results yesterday. According to the results, David's Tea reported a lower-than-expected loss per share (-0.03CAD vs. a consensus of -0.04CAD). Revenue for the third quarter was at CAD 36.3M against the estimate of CAD 34.6M. The company expects revenues of CAD 175M - 177M for the full year. This means that the implied valuation of David's Tea is at 1.6x forward sales. Sylvain Toutant, President and Chief Executive Officer, stated: 
"We are pleased with our third quarter top- and bottom-line performance, highlighted by a 32.5% increase in sales and comparable sales growth of 6.3%. Our strong top-line performance was fueled by continued strength from new and existing stores, and our thriving e-commerce business, as customers responded to our innovative merchandise offering and compelling marketing message."
Looking at the latest statements, we see the following figures: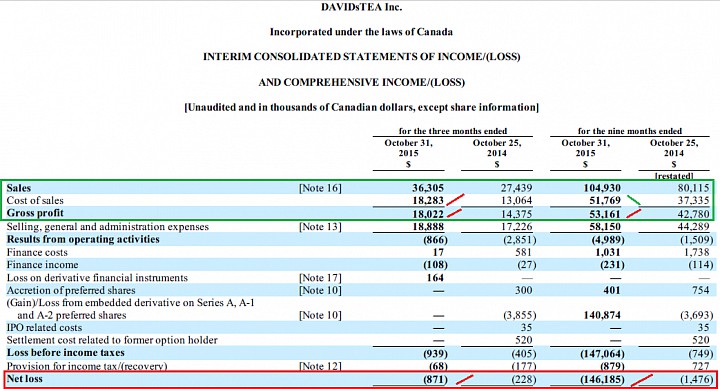 (Source: 10Q Report)
Key points:
- Revenues are up over 30% on a year-over-year basis and 32%+ on a quarter-on-quarter basis. This is remarkable.
- Gross profit margins are down from 53% a year ago to 50% this year. However, this quarter's gross profit margin is at 50%, while in the same quarter a year ago the figure was 48%. I attribute this volatility to the seasonality of the business. Full-year results will yield a better trend.
- Operating loss has broadened as a result of the expanded SG&A expenses. The good news is that the margin is in check.
Overall, the company seems to be growing rapidly and doing its best to keep margins and control costs. However, we have to recognize that the historical records is too short to derive meaningful conclusions from them.
Turning to the Cash Flow Statement, we see the following figures: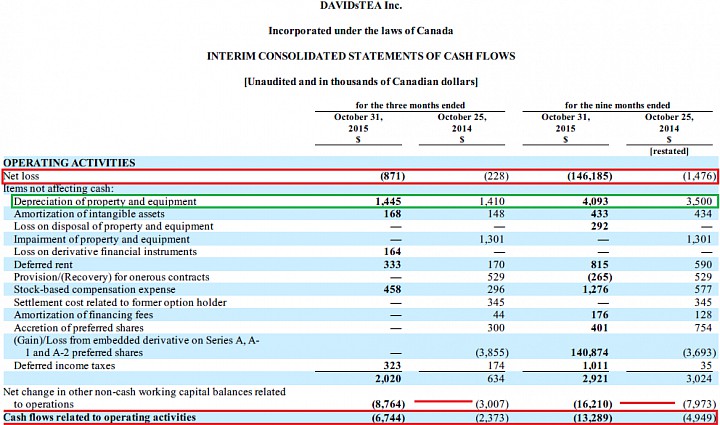 (Source: 10Q Report)
Key observations:
- The company's cash flows from operations are negative. The main reason for that is that it invests a good percentage (about 13% in the last 9 months) of its revenues back in the business in the form of working capital. The balance sheet shows that inventories are up over CAD 20M since the beginning of the fiscal year, while account receivable are also marginally higher. This increase is partially offset by a CAD 3M growth in accounts payable. I also like the fact that the company has over CAD 2M in deferred revenues (i.e. cash deposits from customers that will later be recognized as revenues). This account is essentially a non-interest debt from clients.
- David's Tea repaid over CAD 10M of long-term debt in the past nine months and raised almost CAD 80M from IPO, although the issuance costs are extremely high in this case (almost 13%!). This reshuffling in the company's capital structure is beneficial for long-term growth because the company has raised enough (hopefully) cash to fund expansion. 
- As expected, CapEx is up. The ending cash balance is almost CAD 50M which is almost four times higher than the nine-months' operating cash outflow. One can roughly say the company can afford to burn cash for at least 30 more months (excluding CapEx), other things being equal. I think this gives it sufficient time to execute its expansion strategy and reach a critical mass.
Overall, one can say that David's Tea is comfortable with the current cash flow dynamics and its cash cushion. A stringent working capital management has substantially improve the company's operating results.
I realize that now is a pretty difficult time to value the company given the absence of a long-enough track record. David's Tea is a story stock. On the other hand, the downside potential is limited: the stock is trading only 10% above the 52-week lows and very recently posted better-than-expected results. I will be keeping this stock on my watch list and make my decision then FY 2015 results come out (and I taste its product, too).