Why Long-term Investors Should Buy GoPro
GoPro (GPRO) is a good example of a growth stock beaten down by panic. Its price has fallen by over 70% during this year. A few months ago, I wrote about this company and stated that it was a strong BUY. Now I see that I was too quick with my conclusions, and this company is deserves more attention because some things have changed since then.
My initial analysis was done in May 2015, and the stock lost about 50% in value since then: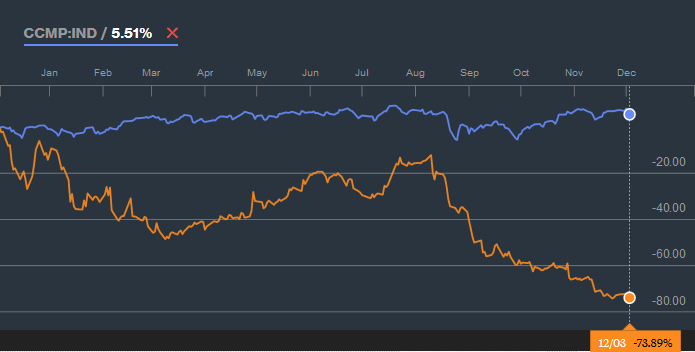 (Source: Bloomberg)
GoPro's is facing growth stock problems: investors closely watch the company's progress on a quarter-on-quarter basis and scrutinize its growth expectations. The stock lost a lot of value because it did not meet investors' expectations and showed lower-than-anticipated results: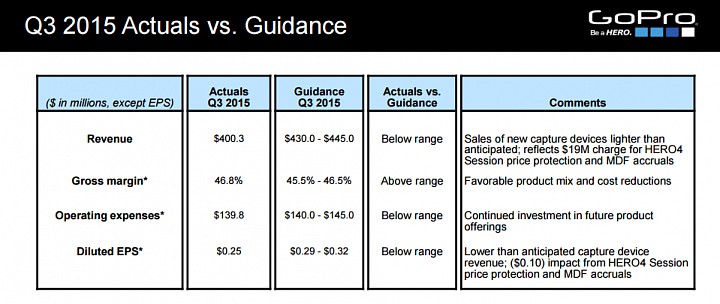 (Source:GoPro Q3 2015 Earnings Results Summary)
The figures alone do not tell us much. Moreover, these have been the company's short-term goals. Let us look at how GoPro compares to the industry on a longer time period:
(Source: Morningstar.com)
While the company is valued at a premium to the industry (P/E of 16.7x vs. 12.8x, respectively), it absolutely deserves the higher-than-average valuation: look at the phenomenal revenue and net income growth rates! These growth rates are backed by very high ROA and ROE figures, which demonstrate how efficient GoPro's management is relative to peers. There is no doubt that GoPro has been a star so far. Keep in mind that, even if the growth in the top line falls by 90%, the company will still be delivering above-average results! This is significant. And all this can be achieved with a zero debt balance on the company's books.
Despite the volatility in the GoPro's market value, I maintain my BUY recommendation on the stock and aim for a price range of $57 - $60 per share. I expect the stock to reach the range in the next 12-24 months.