Contemplating On Macy's Future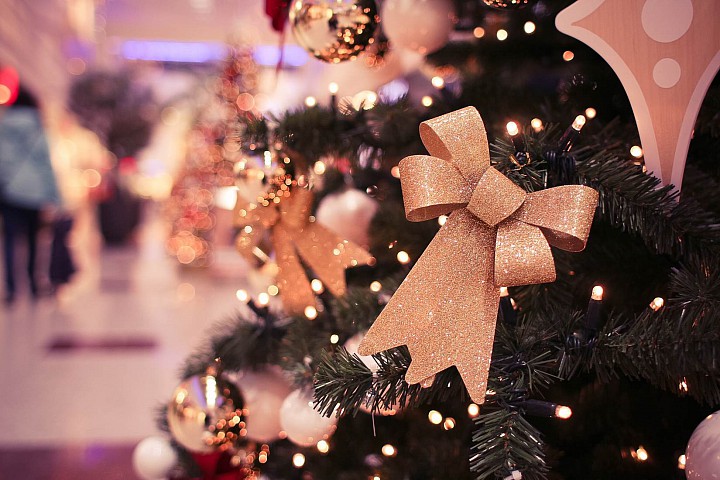 I recently wrote a pretty mathy article on Macy's (M) on Seeking Alpha but it is not going to be up for the next 12-24 or so. I will surely share some excerpts from the analysis and the DCF model with the readers. Essentially, my thesis is that the stock is undervalued given its terrible performance over the last 52 weeks (down over 40% YoY):

(Source: Google Finance)
My calculations show that the stock has a huge margin of safety, even if we assume no growth for the company in perpetuity. 
However, let us talk about something different here. I recently read an article by Motley Fool and I want to go over its key points and critique/support them. Here is the list:
(1) Macy's online business is growing at a double-digit rate today, and the company is now the seventh largest Internet retailer in the United States. Investors should expect a more digital department-store experience from Macy's 10 years from now.
I totally agree on this one. It also seems to me that investors do not pay attention to the company's online business as it does not yet generate a substantial portion of total revenues - but it surely will one day. And that day is not far beyond.
(2) Over the next 15 years, the global middle class is expected to increase by about 1 billion people. That's a lot of new customers for Macy's in international markets and could be a huge growth driver for a well-established name in fashion over the next decade and more.
I am okay with the numbers but here is a catch: the 1B increase will mainly be in India and China. I don't see any Macy's stores in those regions. And the fact that the company has not expanded there yet, despite the promising future, tells us that the management is not a big supporter of going overseas. In other words, the middle class is likely to show a substantial growth on the global level over the next decade but  Macy's is unlikely to capitalize on it.
(3) Macy's is sitting on a bevy of prime property. According to some estimates, the value of its real estate portfolio already exceeds its current market cap of $12 billion.Macy's owns 556 of its stores, and investors have begun clamoring for the department-store chain to spin off those assets into a real estate investment trust. The value of its flagship Herald Square location in New York City alone is believed to be $3 billion to $4 billion, and that value is likely to increase as Manhattan real estate prices have been skyrocketing in recent years.
This is yet another value driver for the company. I have to admit that I did not include it into my analysis. The REIT deal may be very attractive to the company and release lots of cash for dividends, buybacks, and expansion. In fact, other department store companies - for example, Hudson's Bay, a Canadian chain - has already done it - and quite successfully. The only problem is is that REIT typically fall in value when the rates rise. Because the market is awaiting a rate hike (or even a series of them over the next year), the company is unlikely to spin-off its real estate holdings.
Some people fear that Macy's is on a track to become the next J.C. Penney. I think that this is not the case because the company is still very profitable (despite the poor quarterly earnings report) and cash-rich. Besides, let this picture sink into your memory: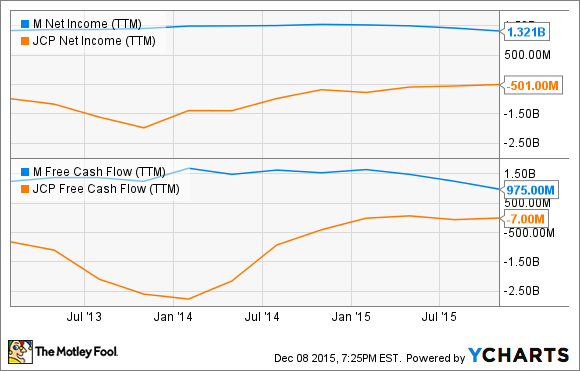 (Source: YCharts)