Capitalize On Relypsa's Demise With This Simple Strategy
Some of my recent options strategies are doing well, some - plainly speaking - suck. I have been mainly focusing on two types of options strategies lately: risk-free strategies (arbitrage and the like) and income-earnings strategies (e.g. iron condors, covered straddles and strangles, etc.). Risk-free strategies have one key disadvantage - they are often hard or even impossible to implement for various reasons. They are also sometimes not worth the hassle when you look at alternative investing options like time deposits. Income-earnings strategies are designed to work more often than not but in times of volatility you are likely to lose money quite a lot (even though the risks and expected returns are known upfront). When I talk about income-producing strategies, I typically focus on popular stocks that are traded with high volumes and have liquid options markets around them. I also tend to cater to long-term investors looking for extra ways to make a buck on their holdings (hence I write quite often about covered calls or covered straddles).
One of the key rules for selling options is selling them when they are expensive. This basically means selling options in times of volatility (other factors affecting options pricing are fixed in the options' valuation model used by market makers). You can only "win" when your volatility forecast turns out to be correct and you keep the premium received at the initiation of the trade. For example, if you sell a straddle, you get to keep the entire premium if it does not become in-the-money (technically, you make money, even if the straddle becomes in-the-money but does not move far enough from the strike to recoup its cost). Basically, when I suggest that investors sell straddles, I expect that volatility around the stock will go down or at least remain the same.
Let us now look at the most recent trade I find interesting from the income's perspective.
Shares of Relypsa Inc. (RLYP) collapsed today, falling down by more than 20% after the company announced a $150M debt offering:
<!== INSTRUMENT %% %60% ==!>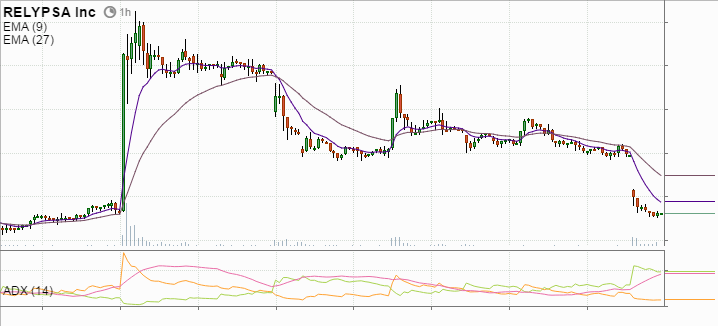 The debt is quite expensive - creditors are going to charge the company over 11% per annum for the money lent. One would wonder why the company issued debt when it generates almost no income and cash flows. Well, the company is also tapping equity markets. Selling too many shares too often leads to dilution and even more downside pressure on the market. 
The positive quarterly earnings results did not help the stock, either.
Nevertheless, it is clear that volatility is coming down as these two events are now in the past. One more catalyst (positive or negative) is coming up soon: on May 10, Relypsa is presenting at the Bank of America Merrill Lynch Health Care Conference. However, the volatility has to come down by the end of the month, which is the time when the nearest options available on the market expire. Hence, I offer a covered straddle trade to income-seeking investors:

(Source: optionsprofitcalculator.com)
Currently, the stock is worth around $14 per share. This means that the yield is equal to over 17%. The risk-return profile of this trade is given below: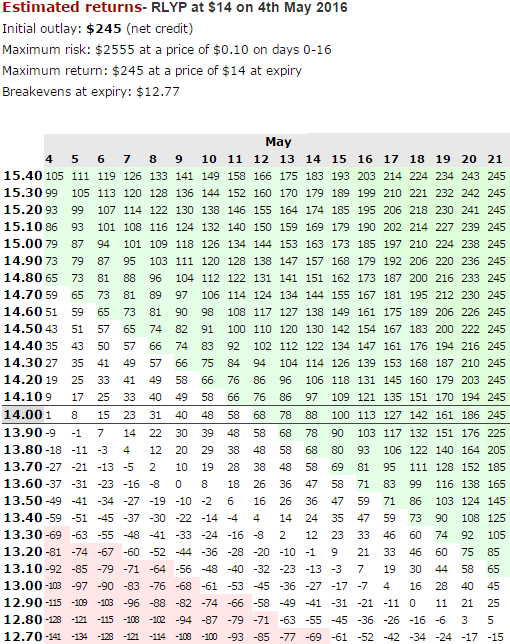 (Source: optionsprofitcalculator.com)
The 17% expected return (fees and taxes excluded) is a very nice return, especially given the fact that this is a two-week trade.
However, things are not that rosy. There is a lot of risk in this trade: first, you are long the stock which means that you are exposed to 100% downside risk; secondly, you are short puts which means that you owe the obligation to buy the stock at the strike price when the stock drops. What you need to do is protect your downside (your upside is covered by the stock). 
From this trade, you get over $2 in premium. This means that you should effectively buy puts at a strike just below the break-even price, which is around $12.77 in this case (calculated as the current price of the stock less the premium received from the straddle less the loss from the underlying). On the one hand, especially if you are long the stock for the long-term, you can simply hedge your put's exposure. I recommend buying the $12 put, which costs around 65 cents per share. This will effectively bring the yield down to 7.4%, which is still pretty high, if you ask me. 
If you want to go completely risk-free, buy another put. This means that your effective cash inflow is $1.15 per share before the gap between the puts' strike and the break-even price of the trade. The gap is equal to $0.77 per share. This means that the net premium is $0.38 per share before fees and taxes. The implied yield is around 2.7%. Although this seems low, keep in mind that the strategy is essentially risk-free. In other words, no matter what happens, you earn the $0.38 per share without losing any principal.    
It is interesting but market data show that you can actually pull the risk-free strategy quite easily because there are volumes in the options:
(Source: Google Finance)
There is one piece of warning, however: the strategy is simply not beneficial at low quantities of the stock and options when you include transaction fees into calculations. My recommendation is to go with at least 5 options contracts (500 shares of stock, respectively). This means that you will have to spend at least $7000 on share purchases. Hence, this is not a strategy for everyone. However, the covered put version of this trade can work with smaller volumes as the net premium received will be larger.

I am looking forward to the market's opening tomorrow. If the options' prices are not going to change significantly, I may initiate this trade.

What do you think of it?