Is Target Ready For A Slingshot?
We all know Target Corp (TGT). Some of us also shop there (or used to). Hence, I do not need to go through the tedious details of what the company does and where it operates. In the past twelve months, Target has made about $74B in revenues and earned over $4B in operating cash flows. You need to know that. And the company's stock actually fared pretty well over the past 52 weeks: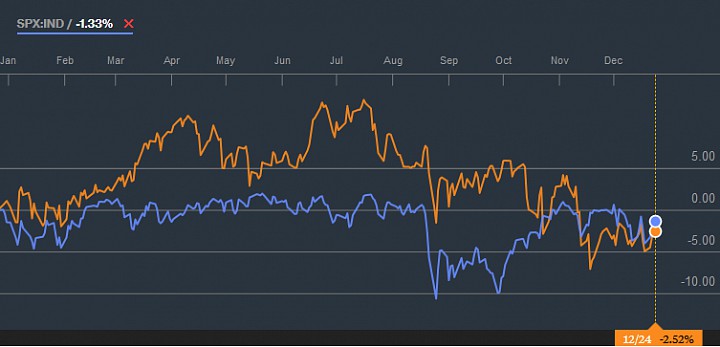 (Source: Bloomberg)
The question is: what now? We all remember the data breach incident a couple years and the disaster in Canada, where Target failed to gain ground and posted monumental losses on its books:

(Source: Annual Report)
Canada really proved to be a tough market for the company. Wal-Mart, Sears, and Hudson's Bay form the "Boys Club" there (I am not including wholesalers like Costco or Superstores). Nevertheless, Target seems to have weathered the disaster pretty well and looks forward to gaining back its market share by increasing its rather poor growth rates in the top line: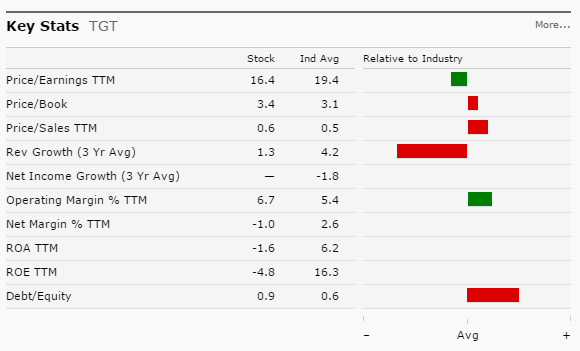 (Source: Morningstar)
We see that the company's three-year revenue growth rate is about three times lower that the average rate in the industry. Keep in mind, that this is the time when the company faced problems with data security and international operations. The question is whether is will be able to post better results in the mid-term.
In a recent article by Profit Confidential, I learned that Target had record sales during Black Friday. The company started its campaign five days earlier than its competitors and managed to get ahead by effectively using online and offline platforms. Also:
"Last March, Target announced it wanted to achieve an annual 40% growth in online sales. Target expects that its Internet sales will grow by 20% in the fourth quarter; if Black Friday and Cyber Monday's performances are any indication, the company should be on track to achieve this, which will help boost Target's stock". (Source: Profit Confidential)
HOWEVER
A couple of days later, news came out that Target is experiencing security problems yet again! Here is what Motley Fool wrote:
"Cybersecurity and antivirus software company Avast declared the mobile device wishlist app from retailer Target (NYSE:TGT) contained a major security flaw that easily exposed the personal information of users to hackers or anyone on the Web who cared to take a look. Target immediately shut down parts of the app, so that it could fix the vulnerability, but as this news comes to light at the height of the Christmas shopping season, it couldn't have come at a worse time for the retailer." (Source: Motley Fool)
Yikes! A security scandal again? If this keeps happening, Target very well may lose its ground in the online business forever. Its name will be changed into "Hackget" by online users. Well, let us slow down with the jokes. What does it mean for the company? At least two things:
(1) This quarter will likely show worse-than-expected results as mobile sales will be surely affected. In return, this can easily cause the stock to tumble after the earnings release in the end of February. 
(2) This may hinder the company's ability to successfully grow its online business, at least in terms of time frame. Keep in mind that Target already faced a major data breach, which hugely damaged its reputation. Hence, the company may either face slower-than-expected growth in the segment or have to incur higher costs to make sure the disaster does not happen again.
Now what about a slingshot? Is Target undervalued because of its past transgressions? Well, as the data from Google Finance show, not really:


(Source: Google Finance)
Target is more expensive than Wal-Mart and Macy's, although neither company had a data breach scandal and/or a fiasco on the international markets. Also, Wal-Mart is more efficient in terms of metrics like the ROE with comparable profitability ratios like the operating margin. From a shareholder's point of view, Wal-Mart is more attractive at the moment as it offers a marginally higher dividend yield (3.2% vs ~3.1% by Target), although Target's share buyback program is more compelling than Wal-Mart's. 
The bottom line is, if I were looking to invest in a large-box retailer, I would rather go with a company that does not have a history of customer-related scandals and defeats on the international arena. And surely I do not think that Target is undervalued relative to peers, especially given the potential hurdles it can face with growing its online business.