What The Market Is Pricing Into GoPro Now - An Update On Valuation
My readers should know that I am bullish on GoPro Inc. and have been riding its shares all the way down to the $10 mark - a painful experience given the fact that I value the company at $33 - $39 per share. This has been a roller coaster indeed, but now it seems like the stock has found its bottom and is slowly recovering now:
<!== INSTRUMENT %% %1440% ==!>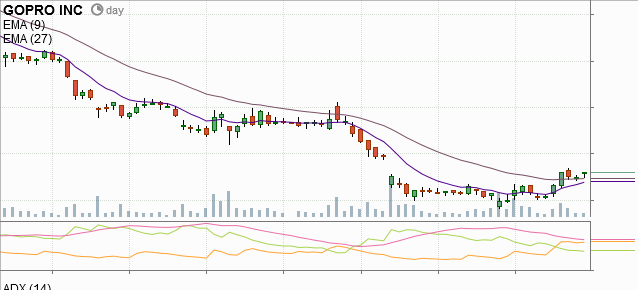 At approximately $13 per share, the market is being pretty pessimistic about the company's prospects. Keep in mind that the stock's book value per share is around $8, while it also carries zero debt on its balance sheet. Hence, I have decided to see what growth rates and margins the market is currently pricing in into the stock (i.e. reverse engineering the valuation). In order to do so, I have updated my DCF model, which I used six months ago or so in order to come up with the valuation:


(Source: Capital IQ. Calculations by author)
So, what did I have to include in my model in order to come up with a valuation similar to the market's (keep in mind that my model is rather short-sighted: I have only done projections for the next two years)? Let us look into that in detail:
- An average revenue growth of 4.5% for 2016 and 2017. This is a mighty drop from the last five-year median growth rate of over 87%;
- An average EBITDA margin of 12.5% ($170M in 2016 and $265M in 2017, to be precise). Now this may seem overly optimistic because the company earned EBITDA of below $84M in 2015. However, in 2014 this figure was $205. Hence, this is not overly optimistic. Essentially, the market is expecting higher profitability going forward;
- CapEx of $40M - $45M in the next two years. This is reasonable because the company spent over $50M in 2015 alone;
- Increases in net working capital (the company increased NWC by over $47M in 2015 and by $126M+ in 2016). Essentially, as the business grows, it needs injections into its working capital in order to grow sales. This a standard requirement for growth companies (check Tesla, for example);
- D&A of over $30M in 2016 and 2017. This is pretty conservative given the fact that the D&A figure was $29M in 2015, while having grown from $200K in just five years!
- Tax rate of 39% and an EBITDA multiple of around 6.5x. I decided to be conservative and excluded tax benefits from calculations. The 6.5x EBITDA multiple is actually the current market multiple for the stock. Bear in mind that this is also quite conservative, as seen in the Gordon Growth Model (the implied free cash flow growth rate in perpetuity is between 0% and 1.5% which is rather pessimistic);
- The market discount rate of 8%. This may seem too low for a growth stock. I used the CAPM model to arrive to this number. I suggest that readers use a low- to mid-teen discount rate (e.g. 13% - 15%) to discount forecasted cash flows and the terminal value of the company. Substituting a 13% discount rate gives us a valuation of approximately $11 - $13 per share:


(Source: Capital IQ. Calculations by author)
Eventually, if you are comfortable with the assumptions and demand a low-teen annual return on growth stocks, GoPro is offering a good price on its shares right now. What do you say to that (I am not a salesman, by the way)?