Will Nintendo NX Be Competitive (Ever)?
Recently, DigiTimes analysts said that the company will be successful if it can manufacture and sell 10 million console units. The supply of Microsoft Xbox One and Sony PlayStation 4 game consoles in 2016 will amount to 13 million and 18 million units respectively. Nintendo has planned to produce 20 million NX consoles. Market indicators show that the game console leaders have a dominant market position. With such a competition from the market giants, it will be very difficult for Nintendo to achieve its sales target.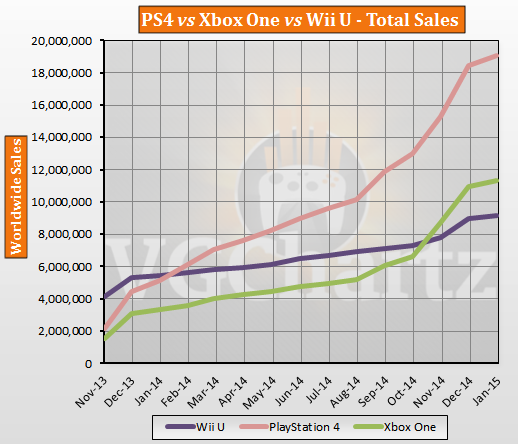 PlayStation 4 Total Sales: 19,052,353
Xbox One Total Sales: 11,298,462
Wii U Total Sales: 9,137,844
The last three years have been a failure for Nintendo. They were rescued by sales in the domestic market. Nintendo Wii U has failed not only because of a poor marketing strategy, but also because of a poor adaptation to the US market. Nintendo's console has always been oriented on the domestic market. The company had never considered the US market.
These problems are now in the past, because Nintendo has decided to change its strategy to become a serious global competitor. Nintendo needs to understand that it must sell more than10 million consoles to become a credible global player. In order to achieve this sales target the company must take into account the prices of competitors, their market share and many other factors that determine success in the world market.
It is important that the market price remains competitive and is not too high. Having understood this Nintendo NX is preparing to launch sales at a competitive price at around $280. This compares with the $369 for the Sony PlayStation and $ 349 for the Xbox One. Nintendo may decide to raise the retail price of the product, but only after a good start for sales of Nintendo NX.
There is a risk of failure, since many people will associate the new Nintendo NX with the failed Nintendo Wii U. Brand image plays a big role in shaping consumer demand. Nintendo's competitors have a great advantage in brand loyalty, so Nintendo will struggle to overcome its negative brand image.
Everything depends on a competent marketing policy, in order to generate consumer demand. The features of the Nintendo NX will not differ from its competitors' consoles, even though the Nintendo NX will have an AMD processor.
The creation of a Nintendo hybrid of the console would deal a significant blow to the competition. If Nintendo creates a hybrid and a conventional portable console, the competitors will find it very difficult to overcome this new trend. The hybrid will meet the many demands of mobile gamers.
The chances of failure for the new Nintendo console are high, as was shown by the example of the Nintendo Wii U. The potential market share of the new Nintendo is no more than 60%.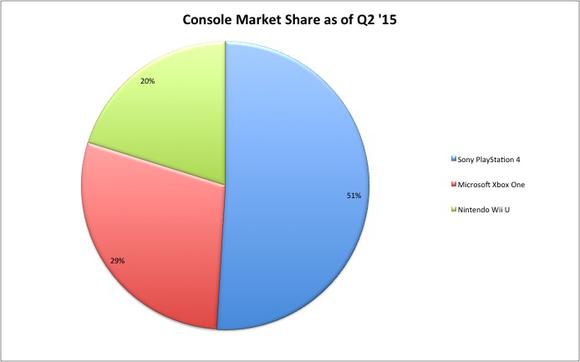 In the second quarter of 2015 Nintendo had a 20% market share; compered to 51% and 29% for its main competitors. This poor relative performance was due to the failure of the Wii; and an improved marketing policy from Sony.
Changing consumer attitudes to a product is difficult. Most consumers remain loyal to their chosen brand. It will therefore be difficult for Nintendo to increase market share. To become a significant competitor it is necessary to hold at least one third of the market.
Nintendo's goal will be achieved if its console gains acceptance in the American market. A new generation of Nintendo consoles increases the competitive environment in the game console market. This decreases the profitability of the market for all the companies involved. Companies may need to leave the console market and occupy a different niche. This will happen within 5-6 years, after Nintendo has established its presence with the sale of 4 million consoles in the year.
Nintendo should remain in Asia where it is profitable. Nintendo is an example of a company that does not choose the right sales territory. Its products are unable pass the adoption phase in the US market. Perhaps Nintendo will be able to break into the US market through mobile games. Uptake by these US consumers will not lead to a large global market share. There is therefore little growth potential within the company.
Assume that Nintendo has released more than 10 m. units. The earnings per share (eps) will be 1.8 on the basis that the redemption shares will amount to no less than in 2015. Since net income will be higher, the average shares outstanding will decline. In this case, the costs will be reduced due to economies of scale. In this scenario, the company will be in a good positions and it is an opportunity to buy shares.
There is a second possible scenario, in which sales are less than 10 m. units. Then earnings per share (EPS) fall to $0.2. A small net profit in the region of $36M is generated. This is less attractive than today's EPS of $0.34.

(Source: author's calculations)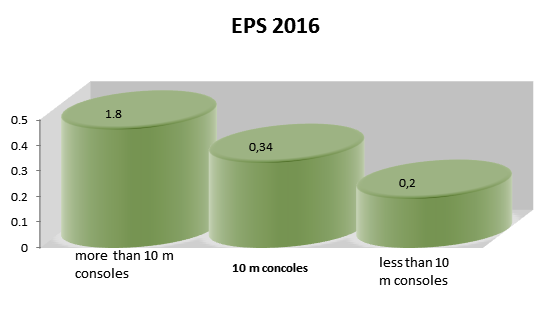 (Source: author's calculations)
If we look at a fair value, we can see that the price will be 21.93 . Since p/e of 46.65 and eps future should be around 0.47. Either the price will fall to 9.3 if EPS fall to 0.2. more calmly now 15.86. I formulated another option with P/E equal to 54.35, and he is more optimistic. The main thing we need to understand that Nintendo is still undervalued so it can succeed with the right strategy or fall and you will lose assets.

Further major projections can be made when the sales data for Nintendo NX orders is published.
My current recommendation for company's the shares is HOLD.