Still Bullish On Apple? Read This
I valued Apple's shares at $123-$133 apiece back in September 2015. My valuation was based on a number of key assumptions:
(1) I expected a ~6% CAGR in revenues in the next five years;
(2) I projected a constant 33% EBITDA margin;
(3) I used a 10% discount rate (slightly higher than the market rate of about 8.8%, according to the CAPM model).
The stock was at around $113 per share back then. My bullish sentiment on Apple has not changed since then, even though the stock now trades at a ~$100 level. However, just to do some risk-testing, I have decided to revise down my growth expectations about the company and update the model. In the updated model, I have used the following key assumptions for the Base Scenarios (the model has three scenarios built-in: Base, Bull, and Stress. Reader can download the model and see the different outcomes by changing the parameters):
(1) I now expect a 4% CAGR in revenues in the next five years;
(2) The EBITDA projection remains unchanged at 33% of revenues;
(3) I use the market discount rate of 8.8%.
The model`s output is given below: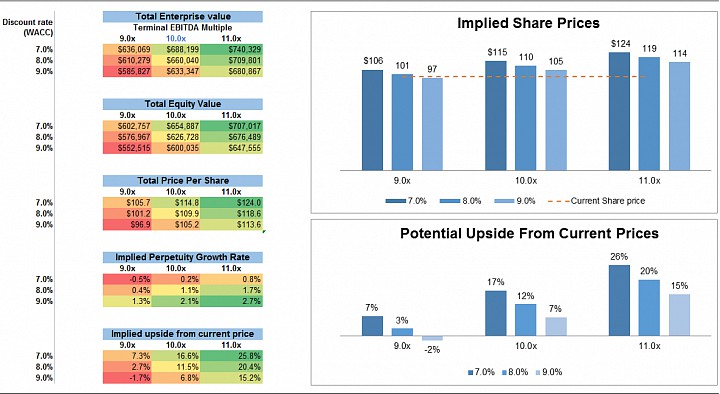 (Source: Capital IQ. Model by author)
In accordance with the model, I give the following target price range for the stock for the next twelve months:

(Source: Capital IQ. Calculations by author)
As you can see, the target price range is between $111 - $130 per share (or $116 - $126 per share, if you want to narrow it down). It is surely less than what I projected before but I strongly believe there is a significant margin of safety in my updated valuation. Therefore, I reiterate my BUY recommendation on Apple`s shares and expect them to reach the level of $120-$130 by the year-end.
The market as a whole seems to work like the tide: as stocks rise, investors become more bullish; when the valuation gets slashed, many investors suddenly become bearish. I get the same feeling about the investor crowd around Apple: I hear the talks about the stock going down to the 80s, while major banks cut their estimates and downgrade the stock(after the fact, as always). I have finally found an analyst from a big bank that holds a contrarian view on the company: Abhey Lamba of Mizuho Securities. In his interview with CNBC, he said:
"While we acknowledge weaker data points from the supply chain and softness in China, we believe similar to last year, investors are likely making a mistake in extrapolating the data to eternity," wrote Abhey Lamba, senior technology analyst at Mizuho Securities, in a note to clients. "We were able to make a nonconsensus call last year by looking at the bigger picture and similar analysis this year makes us take a positive stance on the stock. We believe Apple continues to represent a very strong franchise that has potential to keep gaining share."

He updated his recommendation from HOLD to BUY after being neutral on the stock for twelve months:
"What we did was we took a step back and said these quarterly data points are the noise, let's check back and see what's Apple really worth. What is their customer base really worth? When we look at that, we get a value of about $140 per share, which we think is a fair value, and we think as these data points clear out, the stock will trend towards that."
I personally think that achieving a 4% average growth rate in revenues for the next five years is a piece of cake for Apple, while maintaining margins is manageable given the well-established product line the company has. While I am not sure the stock is worth $140 per share right now, a level of $120-$130 per share seems fair to me.